Ahmadiyya Elementary School
                                                              Office Hours: 8: 15 a.m. to 3:30 p.m.
                                                     School Timetable From Monday to Thursday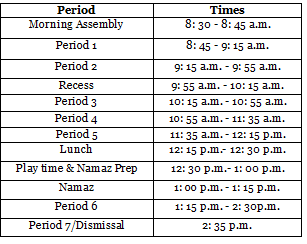 School Timetable for Fridays: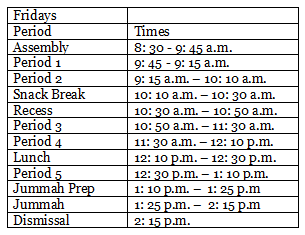 Grading
If a student is getting below 50% after the progress report, a warning will be issued to the parents of the student. After the first term, If the issue is not resolved, suspension or expulsion may be considered.
If a student fails in the second term, he/she will not be allowed to be promoted to the next grade. They will be required to take a make-up exam and will only be promoted to the next grade upon passing the make-up exam.
The evaluation breakdown is shown below:

Recess
Recess, arrival/dismissal times and lunchtime are supervised.
Recess and Playground Expectations
The expectations and rules during playground times are as follows:
¨ Be respectful towards others (including students, staff members, visitors and volunteers)
¨ Keep your hands to yourselves
¨ All students are responsible for keeping school property clean and tidy (vandalism is not permitted)
¨ Students must only play in designated areas
Safety and Behaviour Expectations
All students are expected to observe the following rules:
¨ No running in classrooms, hallways, stairways, stage
¨ No playing or hiding in restrooms
¨ Must stay on the right side while going up/down the stairs
¨ No bad language or name calling
¨ No horseplaying on the stairs
¨ Must avoid play fighting, piggybacks, pushing, spinning, tackling, etc.
¨ Throwing objects at others is not permitted
¨ No hitting or hurting another person
¨ No bullying, teasing or threats
¨ Must use indoor voices in the classrooms and hallways
¨ No talking in the prayer area
Assemblies: Every morning, we assemble in the main hall to begin our day with the recitation of the Holy Quran and Hadith. In addition, during Islamiaat period on Wednesdays and Fridays the students are provided with valuable opportunities to listen to the inspirational lectures of Murabi Silsila, Mirza Muhammad Afzal Sahib, who teaches students about important stories of the Prophets and explains the recent Friday sermons by our beloved Imam: Hazrat Mirza Masroor Ahmad (May Allah be His Helper) and give children life lessons on how to live as a good Muslim. 
During the assemblies, students are expected to:
• Pay attention to the speaker
• Remain seated
• Maintain silence
• Be respectful
• Refrain from asking questions until the allocated time
 Use of washroom should be done before or after assemblies. Students are not permitted to leave assemblies unless it is an emergency
Student Attendance Policy and Procedure
Regular and punctual attendance is expected of all students. Students are required to attend school everyday, to arrive on time, and to obtain authorization for absences. It is important that parents/guardians and school staff work together to ensure regular attendance for student success. 
Parents/guardians are expected to:
• Notify the school as soon as possible if their child will be absent or late.
• Provide medical documentation to substantiate their child's illnesses if requested by the principal.
• Provide a note for the child when he/she needs to leave school early for any reason.
• Report to the office if they are picking their child up from school during the school day.
Please note: A student with less than 75% attendance will require a case-by-case review. Re-enrollment may be considered.
Late Arrivals
If a student arrives to school after the entry bell, in the morning or after lunch, they are considered late and must 
go to the office for an admit slip. 
Allergies/Medical Conditions
There are students and staff members in our school who have life-threatening allergies (i.e. nuts). If they smell or come into contact with these foods, they may have an anaphylactic reaction. To help create an allergen-safe environment, please enforce a nut-free policy. If a student has a serious or severe allergy or medical condition, parents must be aware that they should communicate that information to the school immediately and speak to the school office about completing the appropriate medical forms. If the student carries an Epipen, it is critical that the pen be carried or is easily accessible by the school staff. The location of the Epipen or in some cases, an extra Epipen, must be provided to the main office with completed medical forms.
Uniforms and DRESS CODE
All students are expected to wear the following uniform all day while in school:

Fees
Our monthly tuition fees are $200. We provide a separate bus service at specific locations for an additional $60 per month. Parents/guardians are expected to pay fees on the first day of every month. Failure to pay fees on time will result in an immediate phone call to remind parents. If the fees are continuously unpaid after five days, we will apply a 5% late charge or request a mandatory meeting with the administrators regarding the situation.